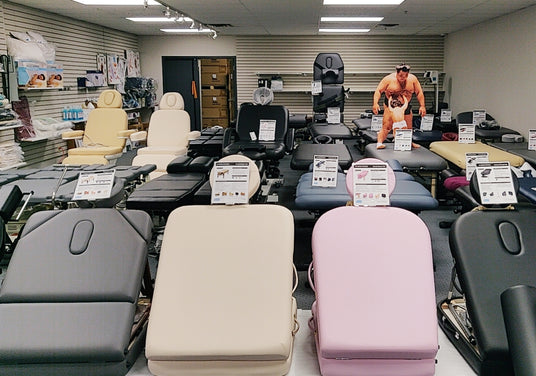 Who we are?
Situated in Markham, Ontario, our aim is to be recognized as a prime supplier, for chiropractors, massage therapists, health practitioners, and physicians. Our core mission is to attend such professionals with an extensive range of premium-grade tables, devices, and products that consistently meet and exceed the market demands.

Since our inception, a pursuit of excellence has driven our dedication to this industry. Our comprehensive offerings extend beyond cutting-edge tables to encompass a diverse collection of devices and products designed to foster health improvement and enhance therapeutic interventions. This approach underscores our commitment to empower practitioners in delivering exceptional care and maximizing the efficacy of their services.

Yet, our commitment transcends transactions; we prioritize fostering enduring relationships. This is achieved through offerings prioritizing reliability, precision, and effectiveness, complemented by exceptional customer service that mirrors the quality of our products.
Recognizing the pivotal role our offerings play in advancing healthcare, we take pride in being agents of progress in our clients' professional journeys. Our selection embodies the epitome of quality, durability, and ergonomic finesse, thoughtfully chosen to enhance the therapeutic experience for both practitioners and recipients of care.
Beyond being sellers, we position ourselves as enablers of transformative change, unwaveringly dedicated to facilitating positive impact through exceptional products and steadfast support. Rooted in this dedication, we stand as committed partners in the unceasing pursuit of enhanced health outcomes and elevated care standards.
Customer Service:

Our customers are at the heart of everything we do. We are committed to delivering exceptional products and services that exceed their expectations.

Integrity & Transparency

We conduct business with the highest standards of integrity and transparency. Trust is the cornerstone of our relationships with customers, partners, and employees.

Innovation & Adaptability

In a rapidly changing world, we embrace innovation and adaptability. We continually seek new ways to improve and evolve to meet the needs of our customers.

Social Responsibility

We are dedicated to making a positive impact in our community and the world. We actively engage in initiatives that promote social and environmental responsibility.