Last updated on February 24, 2022
When leaving the hospital after a stroke, the next steps in the rehab process are not always clear.  Because every stroke is different, every recovery plan will look a little different. Time is precious after a stroke, and choosing the best plan early on can drastically improve your chances of making a full recovery.
To help you navigate the recovery process, this article will explain care options available for individuals leaving the hospital after stroke. Various discharge settings will be discussed to help you understand the benefits and drawbacks of each.
Use the links below to jump straight to any section:
Preparing to Leave the Hospital After Stroke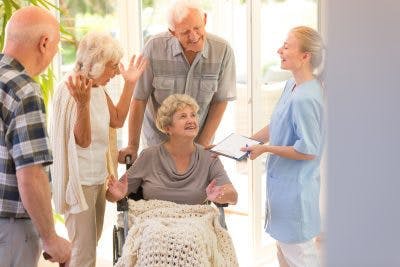 Before leaving the hospital after a stroke, there are steps you must take to ensure a safe transition home (or to another facility if that is appropriate). A discharge plan is the best way to accomplish this.
Generally, social workers, therapists, nurses and physicians guide the patient and their family in determining which level of care would be most beneficial upon discharge. Many factors are considered when creating a discharge plan for patients leaving the hospital after stroke, including:
Living situation
Current functional abilities
Prior level of function (what they were able to do before their stroke)
Family/caregiver support
Motivation to improve
Tolerance for therapy
In addition to ensuring your loved one has a safe place to live upon leaving the hospital, a discharge plan may include home modification ideas and/or adaptive equipment recommendations. A caregiver training session may also be provided to ensure the patient will have the necessary assistance upon discharge.
Individuals may also be encouraged to have a follow-up visit with their primary care provider shortly following their hospital stay. Along with hospital staff, primary care providers can refer you to the best rehabilitation programs or facilities nearby to promote an optimal recovery.
Possible Discharge Settings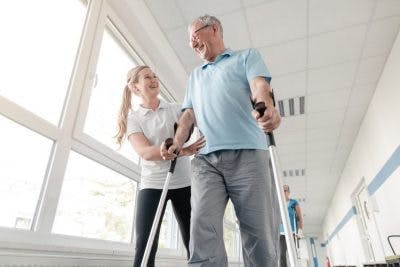 When leaving the hospital after stroke, patients may have varying abilities. Some patients have minimal impairments and can return straight home, while others will need to be transferred to a different facility for more intensive care. Finding the best facility for your loved one may require some investigation on your part, although the hospital staff should be able to tell you which are covered by your insurance in the nearby areas.
Regardless, the majority of individuals following stroke are encouraged to participate in physical, occupational, and/or speech therapy following their discharge to continue making improvements. Some individuals will also benefit from working with a psychologist and/or social worker.
Discharging Directly Home
Approximately half of those who are admitted to the hospital due to a stroke return straight home. A few of these individuals are completely independent, while many others require assistance from their families or home health services.
Stroke survivors who go directly home from the hospital will often participate in outpatient therapy upon returning home. If there is an outpatient stroke clinic near you, we recommend making an appointment. The medical team at the hospital will need to prescribe outpatient therapy for you in order to be considered for an outpatient facility.
Intensive Therapy during Inpatient Rehabilitation
Inpatient rehab centers are an excellent option for patients who can tolerate intensive therapy (at least 3 hours per day), but are not independent enough to live at home yet.
At the inpatient facility, the rehab team will design a treatment plan to address the person's unique needs. They will receive at least 3 hours of therapy throughout the day, 5-7 days a week.
The length of stay in an inpatient rehab facility may vary, with some individuals staying for a week or less, and others for up to a month. Stroke survivors are often able to be discharged home following inpatient rehabilitation.
To investigate which inpatient rehab facility may be best for you, the Commission on the Accreditation of Rehabilitation Facilities (CARF) has a list of accredited providers. Just click on the advanced search link and enter your location. Then select "Stroke Specialty Program" in the Program Focus field and you should get a list of results.
Skilled Nursing Facilities
In general, skilled nursing facilities are for individuals who may have more medical needs, and who may not have a strong family or caregiver support system (meaning they don't have people who can care for them at home). They are also more suited for patients who cannot tolerate several hours of therapy each day.
Medicare's website offers quality ratings of various skilled nursing homes with its Nursing Home Compare feature. You can type in a ZIP code and create a side-by-side comparison of up to three different nursing homes. This list will show you detailed information including staffing and quality measures to help you determine which skilled nursing facility is best for your loved one.
Even if the survivor cannot tolerate intensive therapy right now, it is important to choose a skilled nursing facility that has programs focused on rehabilitation. Without therapy, their condition is less likely to improve and may even decline.
Medicare also offers a helpful checklist you can use when visiting a skilled nursing facility. This can give you an idea of what to look for and what questions to ask.
Why Intensive Rehab Is So Beneficial for Appropriate Patients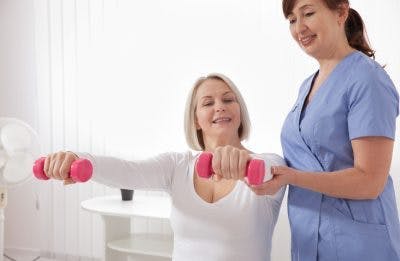 During the first three months after a stroke, the brain enters a heightened state of neuroplasticity. Neuroplasticity refers to the brain's ability to rewire itself and repair neural connections. It occurs when individuals complete highly repetitive, intensive exercises and activities.
To take advantage of this recovery window, doctors at inpatient rehab centers encourage intense therapeutic exercise for patients who are appropriate for this level of care. Therefore, it is most beneficial to begin a rehabilitative therapy program as soon as you leave the hospital after a stroke. Although intensive therapy is best, any amount of therapy that individuals participate in can promote recovery.
The Importance of Home Therapy After Stroke
Once their functional skills improve enough, individuals who were unable to return home initially will be discharged from their inpatient rehab or skilled nursing facility. However, that is not the end of the stroke recovery journey.
To complement your outpatient therapy once you reach this stage and to ensure the best stroke recovery possible, you must practice your exercises at home every day. The more you activate your brain's neuroplasticity, the more progress you can make.
If you have difficulty remembering your therapy program, home therapy devices like FitMi can walk you through your exercises in a fun and engaging way.
Practicing your stroke rehab exercises every day will keep your brain stimulated and can help you achieve a faster recovery from stroke.
Leaving the Hospital After Stroke: Key Points
Planning what to do when you leave the hospital after a stroke can be overwhelming. The most important consideration to keep in mind when choosing a treatment option is your level of function.
If you can tolerate multiple hours of physical activity, then an inpatient rehab facility might be the best place for you. If you cannot, then consider trying a skilled nursing facility. Going directly home with home health or outpatient therapy is also an ideal option if you are fortunate enough to be relatively independent and have an excellent support system.
Whichever you choose, make sure you take part in some form of therapy every day, even if it is only for a few minutes. No matter how severe your stroke is, if you continue stimulating your brain with therapy, you can have a real hope of making your recovery journey a success.